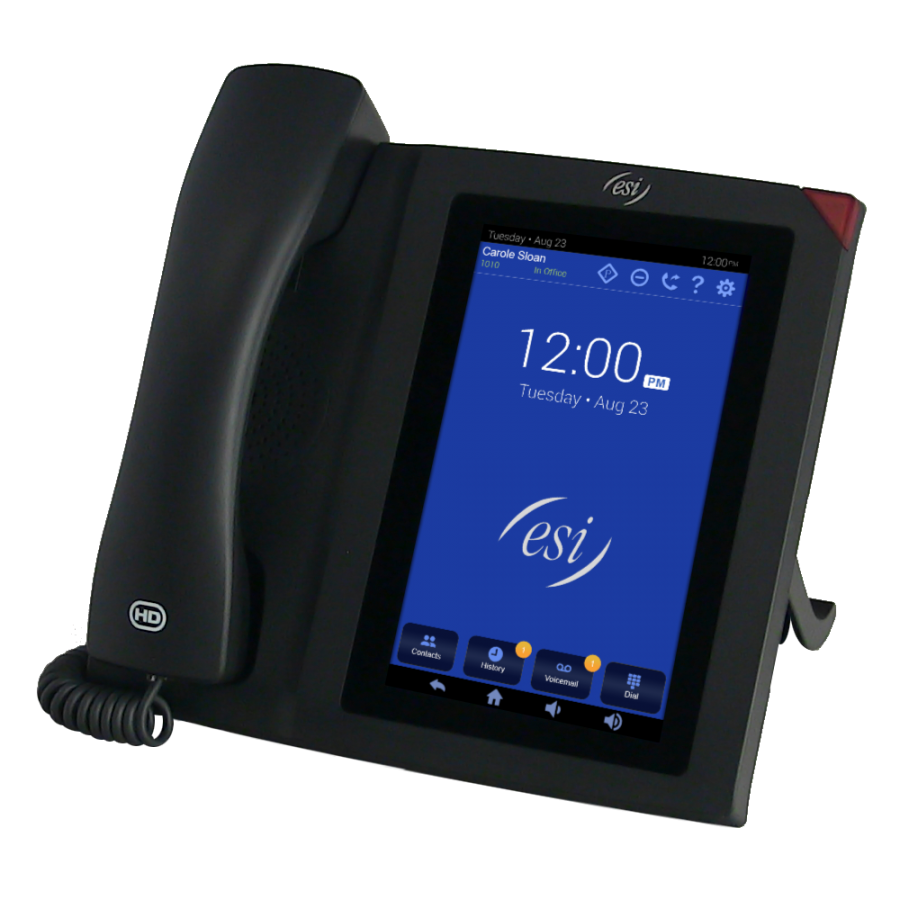 Your business's telephone system, like the lobby of your building, provides the first impression for your business communications. RCI will ensure that impression is a good one.
At RCI we give you options - We offer traditional Digital, VOIP, Cloud, and Hybrid phone systems. We know one size doesn't fit all so we help find the setup that will be just right for your unique needs.
Whether your business is a storefront with a single phone line or a corporation with locations across the country, We can design and implement the system for you.
But here's what sets us apart from the others...
we are service oriented. This means we will never require you to upgrade your phone system because we no longer support what you're using. With our affordable maintenance plans or on an as needed basis, we will support your phone equipment for as long as you have it.
We are a certified factory direct dealer for ESI and Toshiba telephone systems. In other words, our technicians know each phone system like the back of their hand.
"For 4 years, RCI has provided wonderful service to Korona Candles, Inc in Dublin, VA. Over the past 2 years they have been a tremendous help in switching phone service and adding a camera server. I couldn't ask for anyone to be more helpful than the people at RCI. They are always quick to answer my questions, and they are very respectful. I have no complaints at all."
- Gina Carter, Korona Candles, Inc
VOIP
  With the right infrastructure, IP Technology can save money. Voice over internet protocol (or VOIP) phones use the internet to transmit phone calls. These phones are also sometimes called IP phones or SIP phones. VOIP is attractive because it allows businesses to eliminate a monthly phone bill. But before you sign up for a VOIP system, it's important to make sure your network is VOIP ready. Not sure if it is? No problem! We'll test your network to make sure it's up to the task. If VOIP is right for you, we provide:
the equipment
the installation
the SIP trunks (how your phone calls are sent)
ongoing technical support for your equipment
Popular VOIP features:
Call recording and Logging - With call logging, you'll have a recording and database of phone calls you can search as easily as your email inbox.
Smart Phone App - RCI's smart phone app allow users to use their cell phones as an extension, giving you on-the-go features while keeping cell phone numbers private.
Call accounting - Call Accounting allows users to create reports based on time, extension, number called, duration and many other parameters.
Virtual Answer - Let someone waiting to speak with you know you'll be right with them without getting off of the call you have in progress.
Help button - Feature overload? No problem. We are the only company to offer a help button which will walk you through any available VOIP feature.
Ask for a demo!
Cloud Telephones and SIP Trunks
A hosted or cloud solution requires less equipment ownership for the business using it. Cloud Phones are IP phone systems housed outside of the business which use the internet to connect to a phone system in a secure hosting facility.
A good cloud telephone solution has multiple hosting locations in different geographical areas. This is important because if one center goes offline, your business communications won't be affected.
A hosted solution is an excellent choice for a new business or anyone trying to spend less money up front. Instead of installing a phone system, we simply supply and program your phones then connect them to the internet.
With cloud, you pay a monthly fee instead of a large up front cost.
Digital Telephones
Digital Phone Systems, also called PBX, are the longest standing business communications solution
With a digital system, calls travel over phone lines the old fashioned way. As a result they are by far the most stable and reliable.
While internet connections slow or can stop working from time to time, Digital phone systems don't face the ups and downs like VOIP or Cloud systems can sometimes experience.
And with a back-up battery you don't even have to worry about the loss of electricity.
A truly bulletproof communications system for any business.
Digital Phone Systems also have the best audio because phone lines were designed for phone calls. This means no echoing, popping, clicks or robot voices.
On of the best cost saving benefits of digital phone is that you won't need to run any new cabling if you already have a phone system in place. This can save thousands!
Rentals
If you're looking to lower your upfront costs, RCI offers rental telephone contracts at an excellent value. Your monthly rental price includes all equipment and onsite service. Knowing that you have no costly surprises coming up is a great option for any business!